See everything, secure everything
Visibility is the foundation on which all public cloud security policies and activities are built. Sophos Cloud Optix makes it simple to monitor multiple cloud provider environments including Amazon Web Services (AWS) accounts, Microsoft Azure subscriptions, Google Cloud Platform (GCP) projects, Kubernetes clusters, and development code repositories. This superior visibility, layered with compliance and DevSecOps policies controls and alerts,enables teams to take control and build on their cloud security strategy with confidence.
An agentless, SaaS-based service integrating with native public cloud provider APIs, Cloud Optix automatically builds a complete picture of architecture, including a full inventory and real-time network topology visualization including hosts, networks, user accounts, storage services, containers, and serverless functions.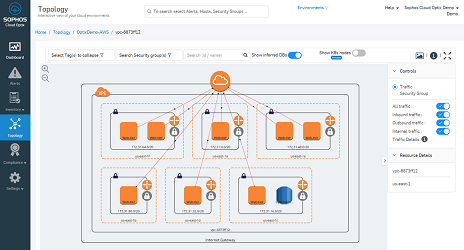 More than simple configuration checks
Cloud Optix uses machine learning artificial intelligence to check for anomalies and security vulnerabilities across your platform – monitoring network traffic,
resource configurations, user login events and API calls, compliance status, infrastructure-as-code (IaaC) repositories and more, with guardrails to automatically
remediate accidental or malicious changes in network configuration.
While contextual alerts identify the root cause of security and compliance issues, allowing you to focus on the most critical areas that need security updates,
with a description of the issue, remediation steps, and affected resources.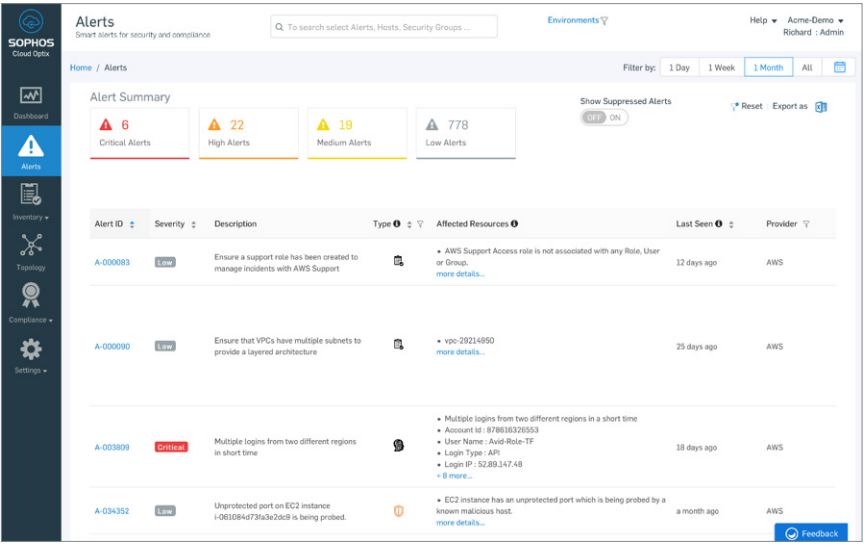 Monitor and respond your way
Cloud Optix provides a Rest API, and integration with Splunk, PagerDuty, and Amazon GuardDuty to provide real-time alert information wherever you need it. While thanks to inbuilt integrations with Jira and ServiceNow, alert information can even be used to create tickets which can then be tracked to completion, ensuring important tasks are never lost, even during a release.
All-wrapped up with at-a-glance dashboards on on-demand reports, you'll save hours or even days of effort managing your cloud security posture – helping you achieve the seven most important steps in securing the public cloud.
Learn more
Sophos Cloud Optix is the ideal solution for organizations using or moving to the public cloud. By combining the power of AI and automation, it gives your organization the continuous visibility needed to detect, respond and prevent security and compliance vulnerabilities that could leave them exposed.
To learn more about Sophos Cloud Optix and to start a no-obligation 30-day trial on your own cloud environments, or an immediate online demo.
Drop Us a Message Today to Find Out More!!!
*Article taken from Sophos White Paper on Securing Public Cloud
INStream Corporation is a certified Platinum Partner for Sophos. We have the most qualified team to help you plan and protect your organisation with the extensive solutions offered by Sophos.