Fortinet Security Fabric
This one-minute animated video illustrates how Fortinet Security Fabric protects your entire network from IoT to the cloud.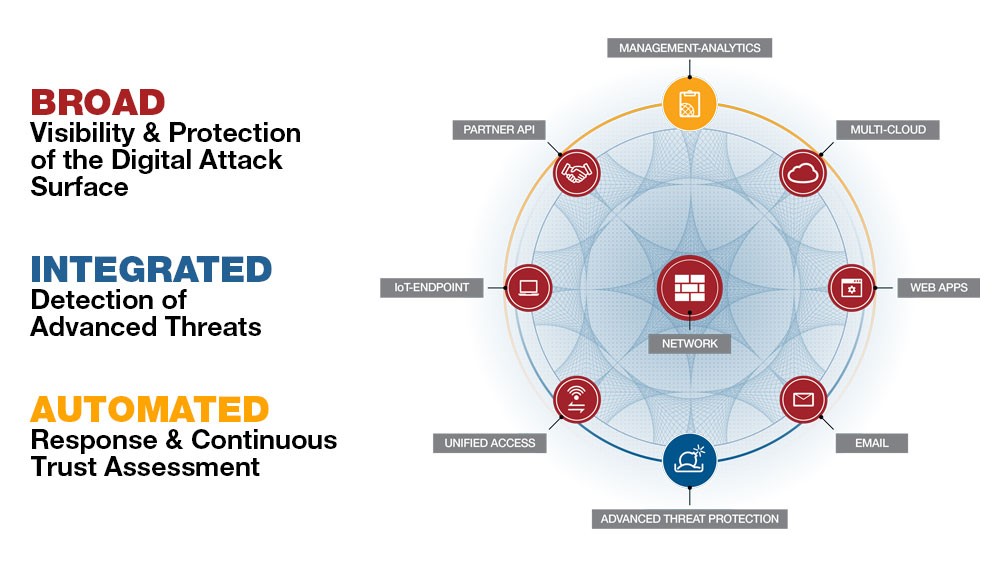 Broad visibility and protection across the digital attack surface. More than 25% of enterprise attacks are predicted to target IoT devices by 2020. And siloed apps in multi-cloud environments make it even harder to respond to threats. The Fortinet Security Fabric delivers real-time visibility across all devices and applications.
Integrated detection and response to advanced threats. Enterprises average more than 30 point security products within their environments, resulting in multiple time-consuming security consoles and lack of transparency. The Fortinet Security Fabric streamlines communications among the different security solutions, shrinking detection and remediation windows.
Automated operations and analytics via a single console. Sophisticated cyberattack technologies such as artificial intelligence (AI) and machine learning (ML) are reducing the time from intrusion to attack. This means enterprises need to detect threats faster. With Fortinet Security Fabric, you can coordinate automated responses and remediation to threats detected anywhere across your extended network.
Real Time Threat Map
View real time threat information on our
Real Time Threat Map
powered by Fortinet
    
  *** HTML ***

<div id="content">
    
    <iframe src="https://partnerportal.fortinet.com/English/content/content-syndication.aspx" name="frame2" id="frame2" frameborder="0" marginwidth="0" marginheight="0" scrolling="auto" onload="" allowtransparency="false"></iframe>

</div>



* end html *

Fortinet Provider in Singapore
A security-enhancing application, Fortinet provides digital protective solutions against cyber threats for enterprises and small businesses in education, government, healthcare, hospitality and retail. Many businesses and organisations in Singapore have been taking advantage of their state-of-the-art systems to enhance their business management and security. Fortinet is best known for its smart and cutting-edge firewall solutions. Their trademark FortiGate provides high threat protection with automated visibility to inhibit cyber-attacks. Like other ideal firewall solutions for businesses in Singapore, this software integrates a threat-centric hardware firewall with smart software features.
Acquire Fortinet in Singapore
If you are looking for a Fortinet provider in Singapore, look no further than INStream Corporation for smarter business solutions to combat cyber-attacks. INStream Corporation is proud to be a partner of Fortinet products and services. We have extended our services to numerous companies in Singapore. As an authorised partner of the sophisticated cybersecurity software, you can depend on our team of cybersecurity engineers to recommend the best solutions to your business. With Fortinet's advanced threat protection and detection for businesses, users will be able to prevent even the most malicious network attacks. As the leading cybersecurity solutions company in Singapore, we have been a long-time partner of Fortinet. Our experts and engineers are well-versed with Fortinet software. You can count on us to recommend the best firewall solutions to enhance your business security in Singapore.
Contact Us to Learn More About Our Products and Other Partners
Apart from Fortinet, we also work with other network security vendors that provide exceptional firewall capabilities and other cyber security solutions. They include leading cyber security companies such as Symantec, Sophos and RSA who specialise in threat detection, infrastructure protection and cloud security. Should you have any questions about our products and services, please feel free to reach out to INStream Corporation, the choice Fortinet provider in Singapore. Our team will be more than happy to assist you in any way. You may leave us a message on online inquiry form by clicking
here
.
Drop Us a Note to Find Out More About Fortinet Security Fabric